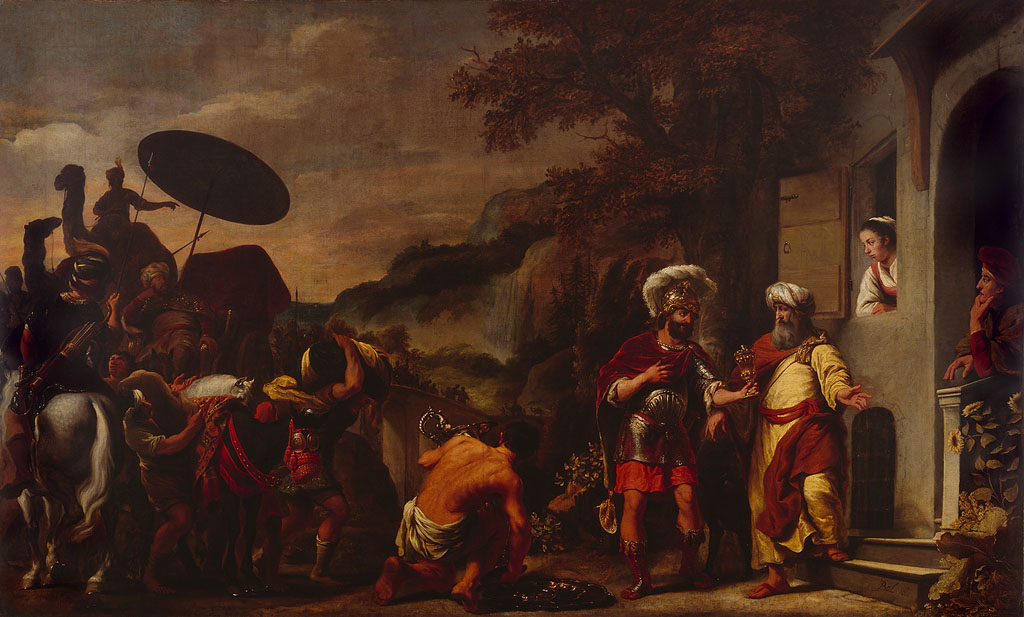 Ferdinand Bol 1616 – 1680
Elisha refusing the gifts of Naaman
oil on canvas (151 × 249 cm) — 1661
2 Kings 5:15
15. And he returned to the man of God, he and all his company, and came, and stood before him: and he said, Behold, now I know that there is no God in all the earth, but in Israel: now therefore, I pray thee, take a blessing of thy servant.
Naaman was a Syrian warlord, who suffered from a nasty skin condition, probably leprosy. An Israelite maid he had captured advised him to see the prophet Elisha. Naaman traveled to Samaria, where Elisha told him to take seven dips in the river Jordan.
The baths cured Naaman. He then praised the lord of Israel as the only true god. He wanted to thank Elisha by giving him presents, but Elisha refused.
The man standing in the door to the right is Elisha's servant Gehazi. After Naaman departed, Gehazi ran after him and asked him for gifts. When he returned home, Elisha found out and punished Gehazi with leprosy for his greed.
Bol was commissioned by the masters of the Amsterdam leper home. They perhaps considered themselves to be as unselfish as Elisha was.
Elisha Refusing the Gifts of Naaman, by Pieter de Grebber 1630