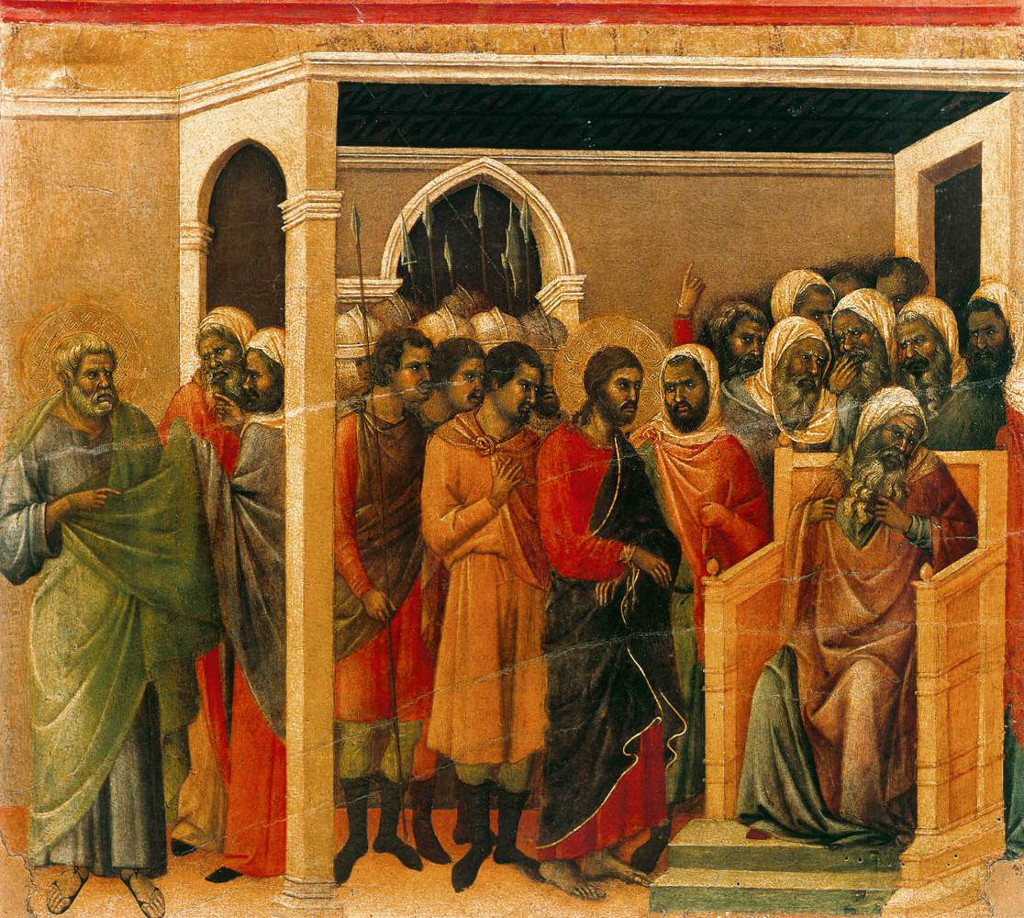 Duccio di Buoninsegna ca. 1255 – 1319
Christ before Caiaphas (Maestà)
tempera on panel (45 × 53 cm) — 1308-11
Matthew 26:65
65. Then the high priest rent his clothes, saying, He hath spoken blasphemy; what further need have we of witnesses? behold, now ye have heard his blasphemy.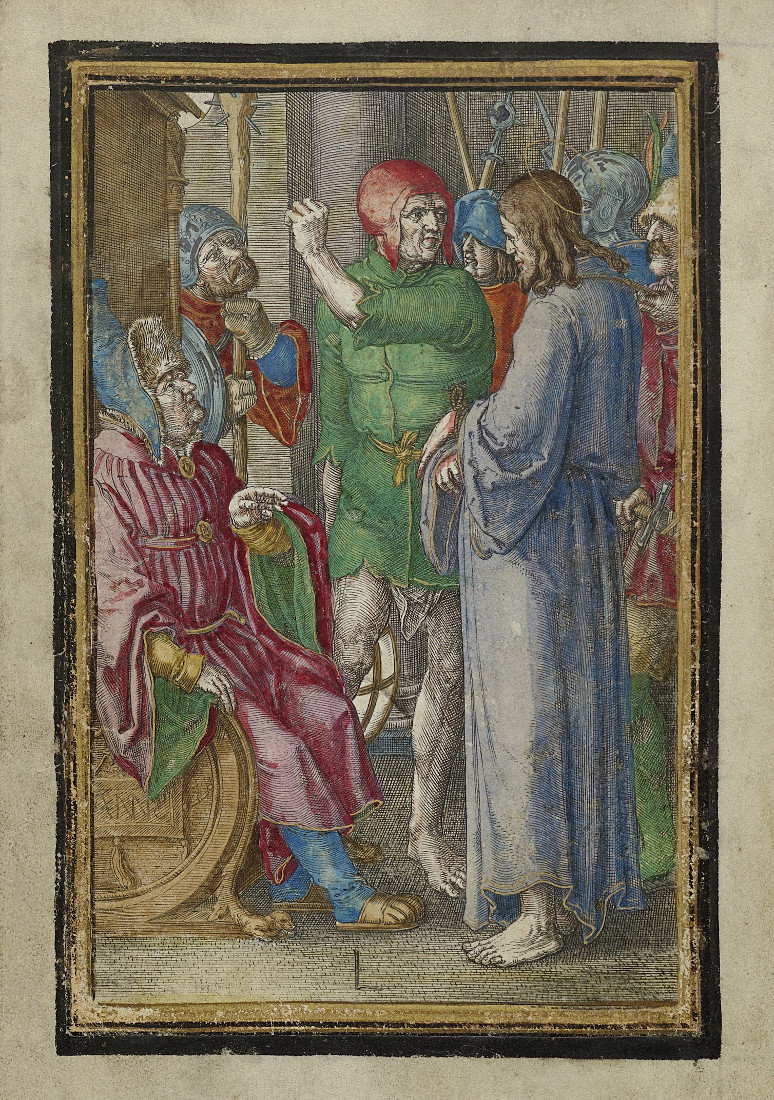 Lucas van Leyden 1494 – 1533
Christ before Annas
engraving (15 × 10 cm) — 1521
John 18:22
22. And when he had thus spoken, one of the officers which stood by struck Jesus with the palm of his hand, saying, Answerest thou the high priest so?
After his arrest, Jesus is taken to Annas, one of the high priests. Annas asks him about his disciples and his doctrine. Jesus replies that all his teachings were public, so Annas had better ask the people who heard him speak.
The soldier in green takes this as an insolent, disrespectful answer and strikes Jesus in the face.
This print is a hand colored engraving in a hand written book of prayers with seventeen other prints. One of the other prints is the one showing Christ in Limbo.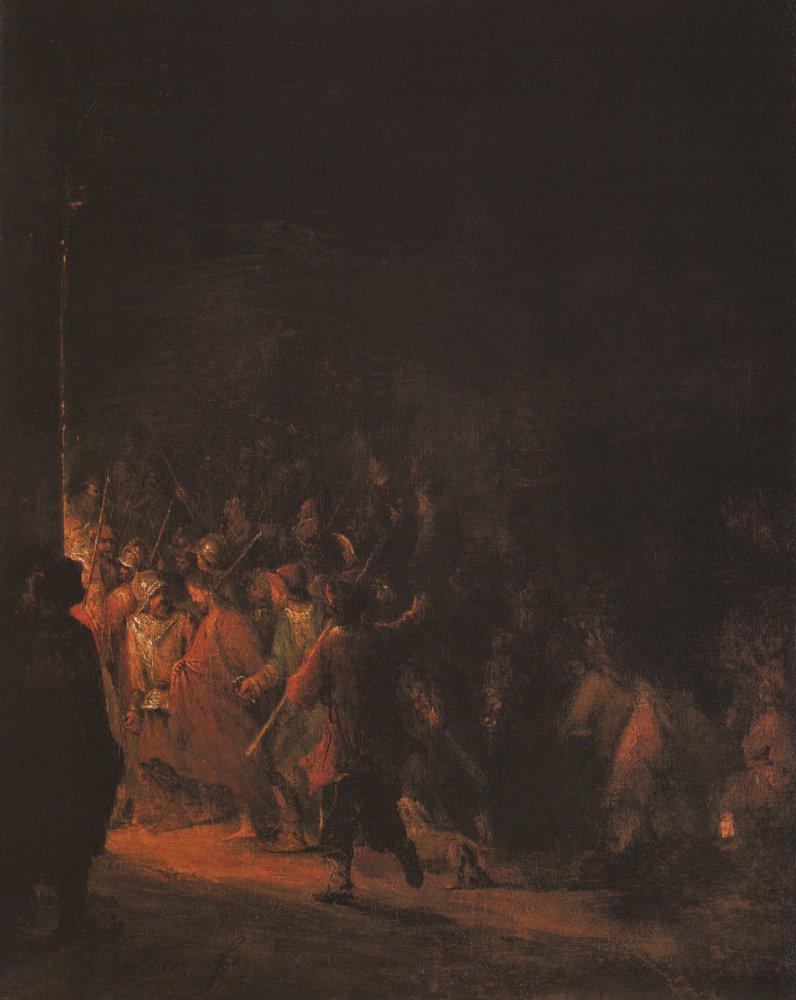 Arent de Gelder 1645 – 1727
Jesus Taken to the House of the High Priest
oil on canvas (73 × 59 cm) — c. 1715
John 18:13
13. And led him away to Annas first; for he was father in law to Caiaphas, which was the high priest that same year.
This is one of the paintings in Arent de Gelder's Passion Series. It has a subject that is rarely depicted. Jesus has been captured by the Romans and is taken to a house. A warm light falls from the house onto the street. In the light the rich colors of the cloths become visible. Standing to the left in the shadow two man watch what is happening.
De Gelder may have used the story as told in John 18. There it says that Peter and another disciple followed Jesus to the house of the high priest Annas. Annas was the first priest to interrogate Jesus. Later he was taken to Caiaphas, another priest who also happened to be Annas' son in law.
Christ before the High Priest
c. 1617
Oil on canvas, 272 x 183 cm
National Gallery, London
Gerrit van Honthorst
[Dutch Baroque Era Painter, ca.1590-1656]