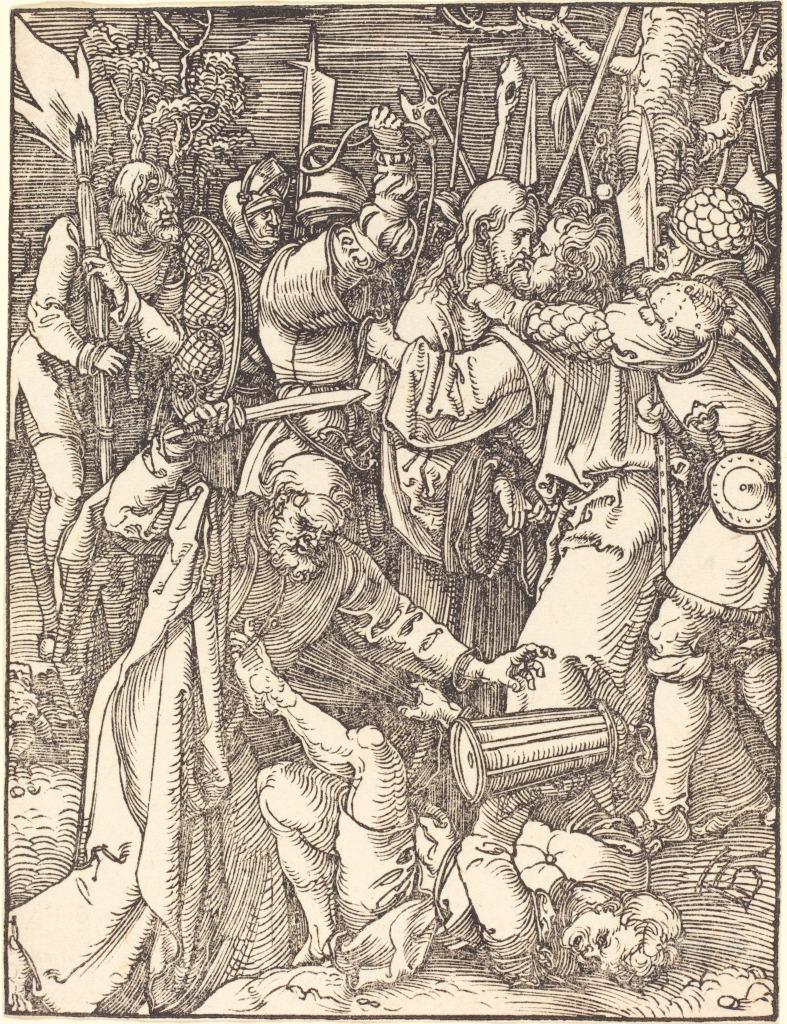 Albrecht Dürer 1471 – 1528
The Betrayal of Christ
woodcarving (13 × 10 cm) — 1509
Luke 22:48
48. But Jesus said unto him, Judas, betrayest thou the Son of man with a kiss?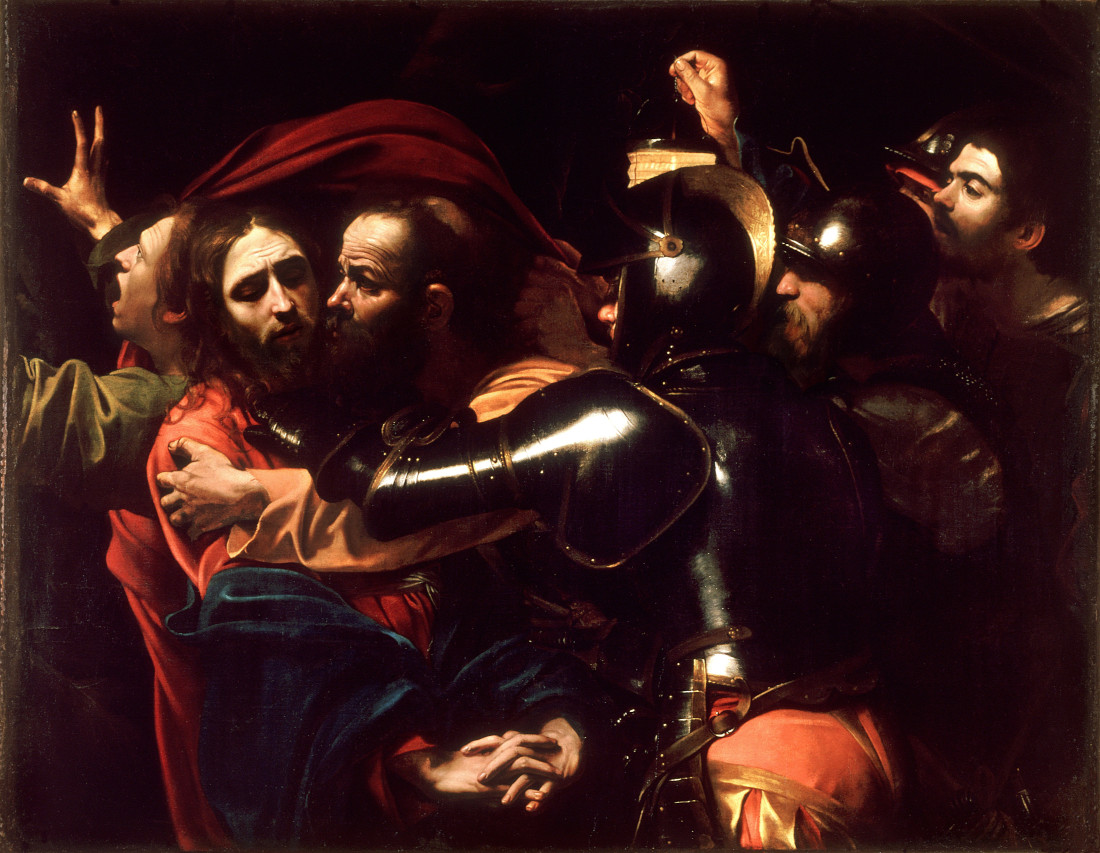 Caravaggio 1573 – 1610
The Betrayal of Christ
oil on canvas (133 × 169 cm) — c. 1603
Jesus' face expresses both resignation and pain. He knows what is about to happen to him. Note how he holds his hands. Judas Iscariot greets him with a kiss, so the soldiers know whom to capture.
To better see the face, it is illuminated by a lantern. The man holding the light is Caravaggio himself.
Breaking a rule of his craft, Caravaggio started this painting on a dark ground. The typical composition with the soldier stretching his arm was derived from an Albrecht Dürer woodcut.
The painting was commissioned by Ciriaco Mattei, a brother of Caravaggio's patron, Cardinal Mattei. Around 1800 the Mattei family sold it, erroneously attributing it to the Dutch master Gerard van Honthorst. It was rediscovered as a Caravaggio in 1990 while hanging in a Jesuit home in Dublin, Ireland.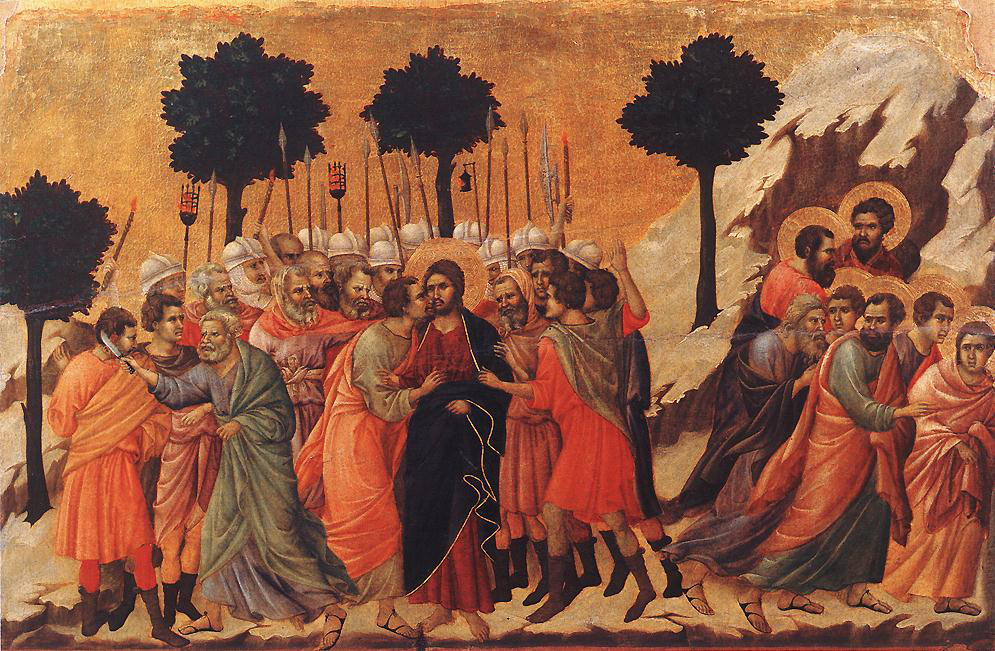 Duccio di Buoninsegna ca. 1255 – 1319
Jesus Captured (detail) (Maestà)
tempera on panel (51 × 76 cm) — 1308-11
Matthew 26:48
48. Now he that betrayed him gave them a sign, saying, Whomsoever I shall kiss, that same is he: hold him fast.
Judas identifies his master by kissing him upon which he is taken prisoner. Peter manages to cut off the ear of one of the attackers. In the midst of the turmoil, Jesus seems very quiet.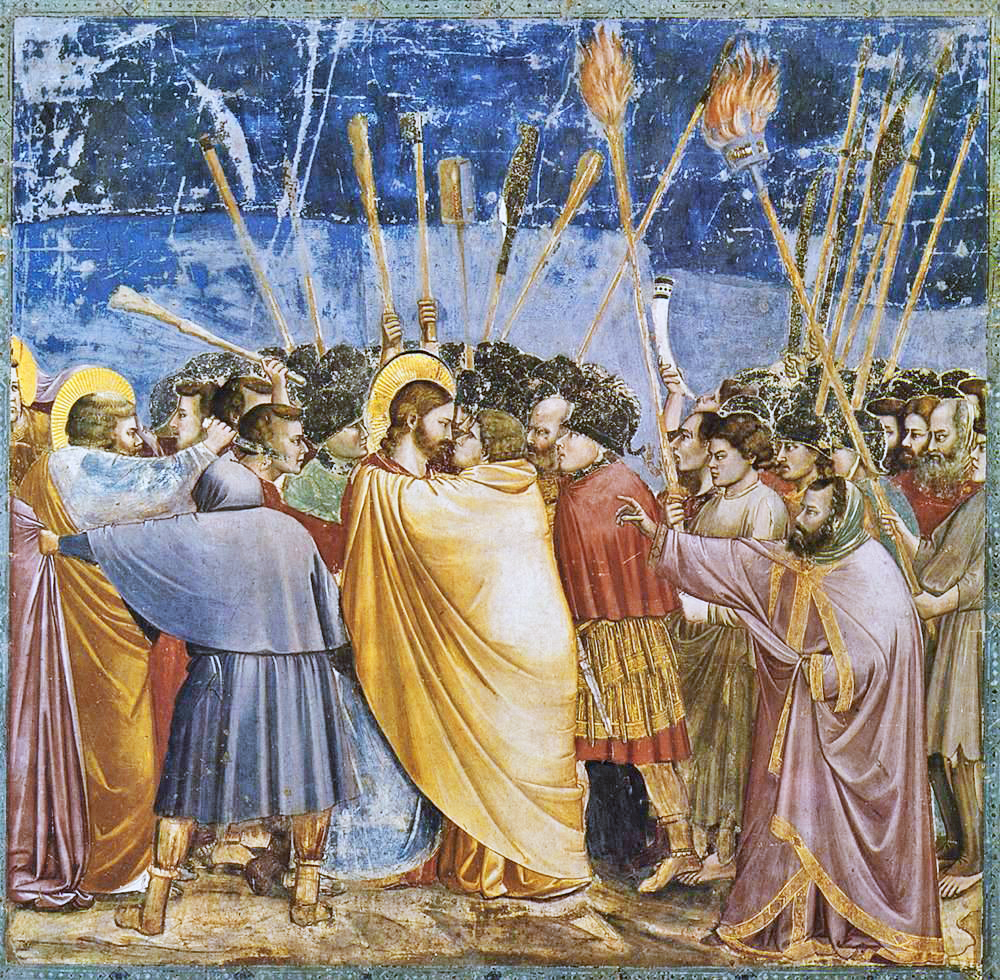 Giotto ca. 1267 – 1337
Judas' Kiss
fresco (200 × 185 cm) — 1304-06
Mark 14:44
44. And he that betrayed him had given them a token, saying, Whomsoever I shall kiss, that same is he; take him, and lead him away safely.
One of Giotto's frescoes from his series on the life and passion of Jesus, in the Arena Chapel in Padua.
Judas greets Jesus with a kiss, identifying him for the Romans who have come to arrest him. The look on Jesus' face speaks volumes – he knows what is happening. The Judas' kiss became the most poignant symbol of betrayal in the Christian world.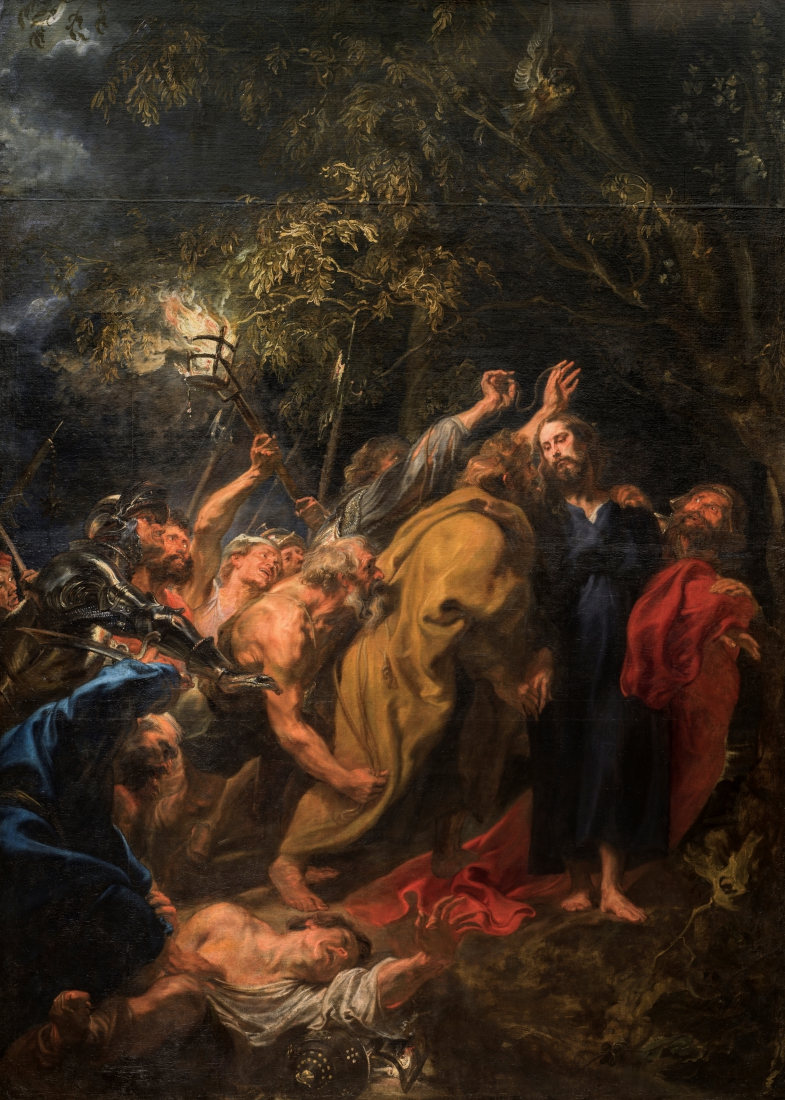 Anthony Van Dyck 1599 – 1641
Jesus captured
oil on canvas (344 × 249 cm) — 1618-20
This painting by Van Dyck, then 20 years old, shows the moment Judas betrayes his master by kissing him. That way he pointed out to the Roman soldiers which one in the group was Jesus. In the midst of all the turbulence Jesus stays remarkably calm.
At the time of creation of this work Van Dyck was probably already an assistent of the great Rubens, whose influence can be seen in the muscular figures.
The Arrest of Christ
1509-16
Oil on wood, 129 x 97 cm
Augustiner Chorherrenstift, Sankt Florian bei Linz
ALTDORFER, Albrecht
(b. ca. 1480, Regensburg, d. 1538, Regensburg)
One of the main concerns of the German artist Albrecht Altdorfer was to paint atmospheric landscapes. In the Arrest scene of the St Florian Altarpiece, which today survives only in fragments, the light from the torches throws up a night scene in a forest covered by a somberly glowing night sky. This kind of dramatic interpretation of the subject matter was just the sort of model Holbein needed for his Passion altarpiece.
Scenes from the New Testament: The Arrest of Christ (Kiss of Judas)
1290s
Fresco
Upper Church, San Francesco, Assisi
MASTERS, unknown Italian painters (11c-13c)
The Arrest of Christ, by the workshop of Hieronymus Bosch, c. 1515, oil on panel - San Diego Museum of Art
Illumination from a western manuscript, c. 1504
The Kiss of Judas Iscariot, coloured engraving, 15th century.
A red-haired Judas betrays Jesus with a kiss in a Spanish paso figure.