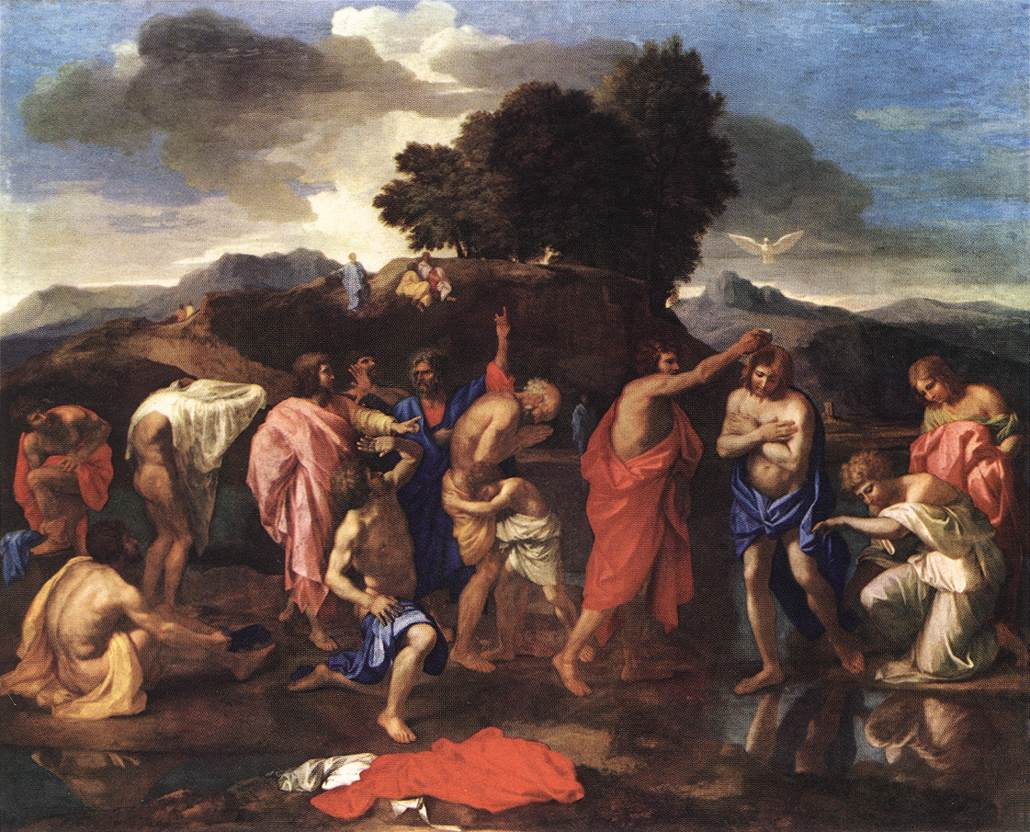 Nicolas Poussin 1593/94 – 1665
Seven sacraments: baptism
oil on canvas (95 × 121 cm) — 1641-42
Matthew 3:17
17. And lo a voice from heaven, saying, This is my beloved Son, in whom I am well pleased.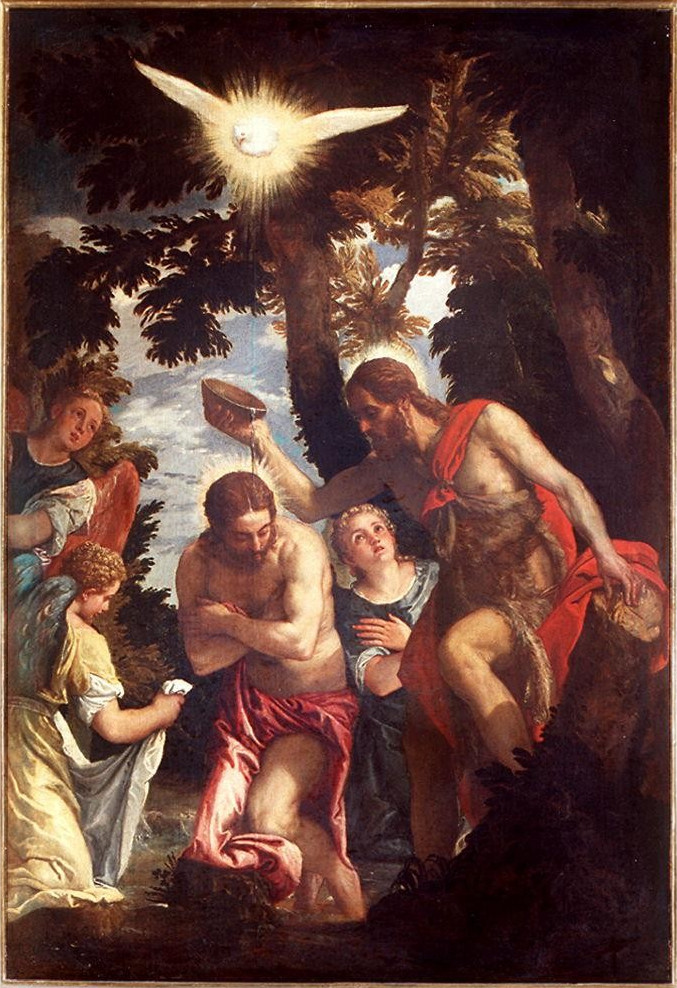 Paolo Veronese 1528 – 1588
The Baptism of Jesus
oil on canvas
Mark 1:9
9. And it came to pass in those days, that Jesus came from Nazareth of Galilee, and was baptized of John in Jordan.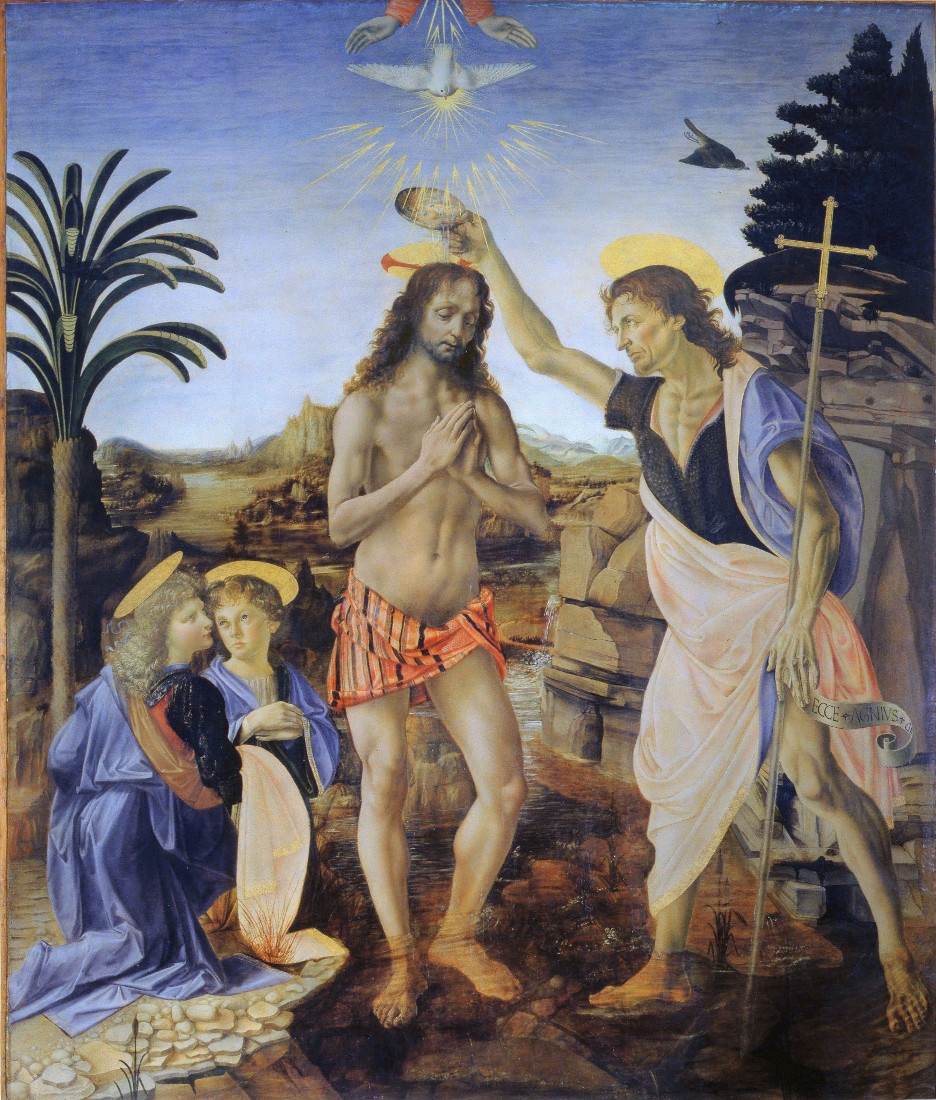 Andrea del Verrocchio 1435 – 1488
The Baptism of Christ
oil on panel (177 × 151 cm) — ca. 1472 - 1475
John the Baptist pours water over the head of Jesus, baptizing him. The beams of light and the white dove symbolize Jesus' divinity.
The painting is known for the fact that one of the angels holding Jesus' clothes, the left one, was painted not by the master himself, but by a student of Verrochio's – the young Leonardo da Vinci.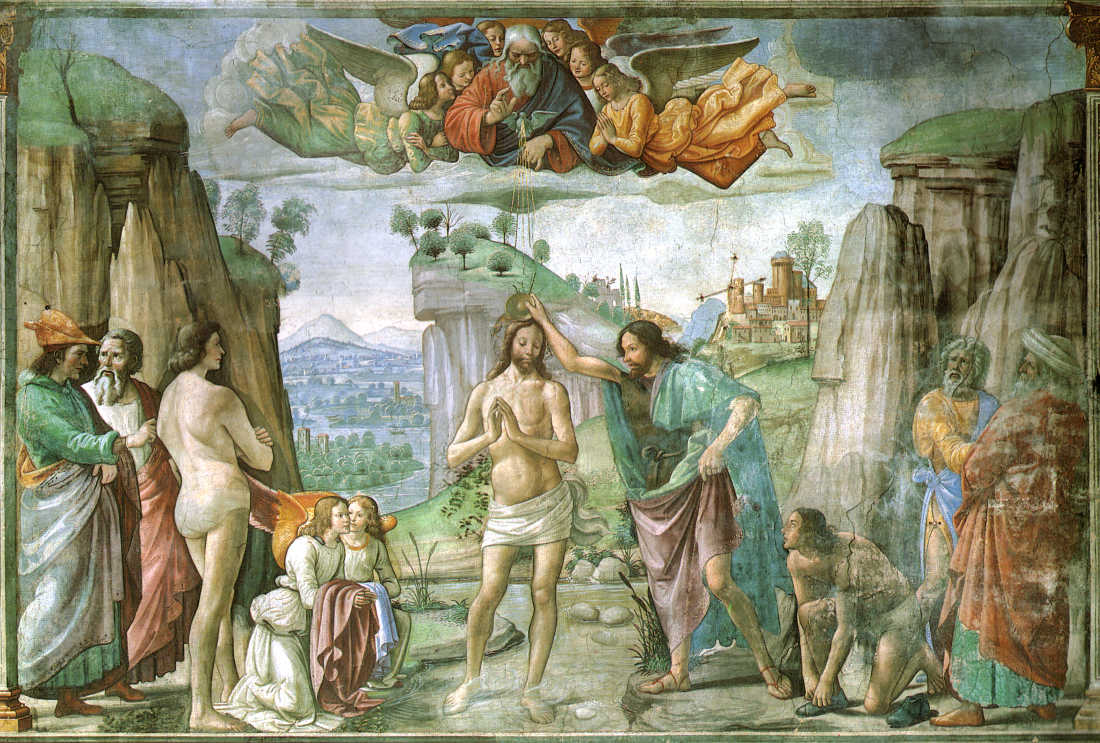 Domenico Ghirlandaio 1449 – 1494
Baptism of Jesus
fresco (215 × 450 cm) — 1486-1490
This fresco is part of the series Ghirlandaio made in the Tornabuoni family chapel in the church of Santa Maria Novella in Florence. All works in this series are about the life of John the Baptist.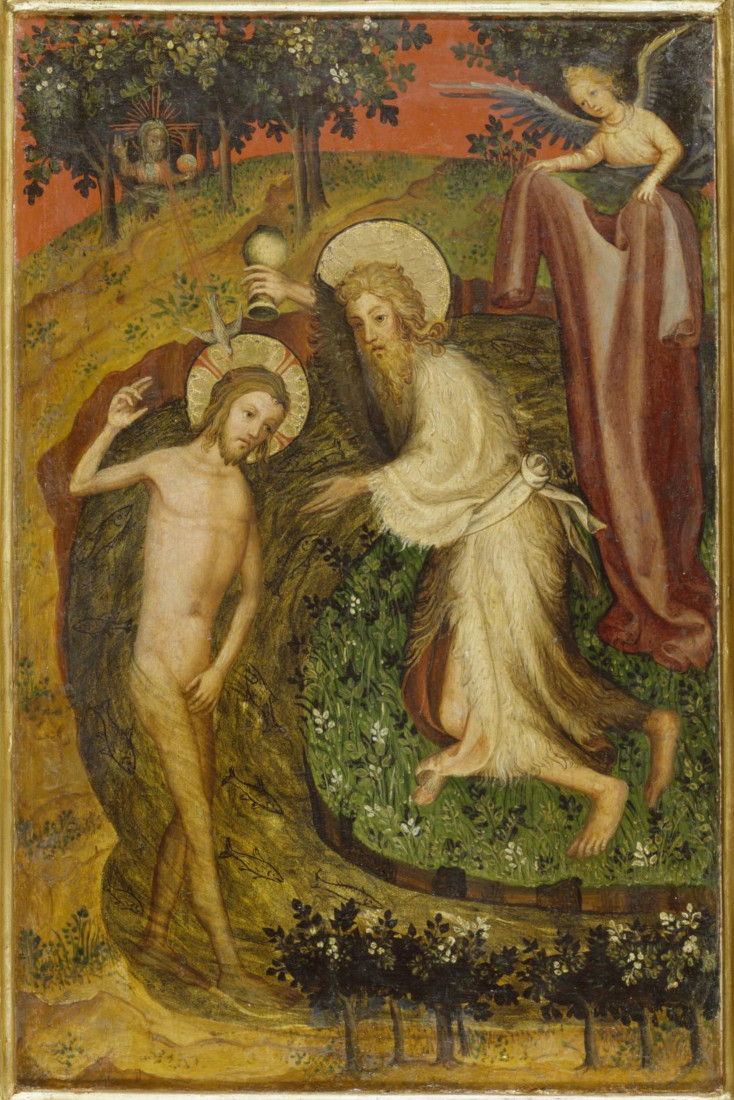 Anonymous
The Baptism of Christ
oil and tempera on panel (37 × 26 cm) — c. 1380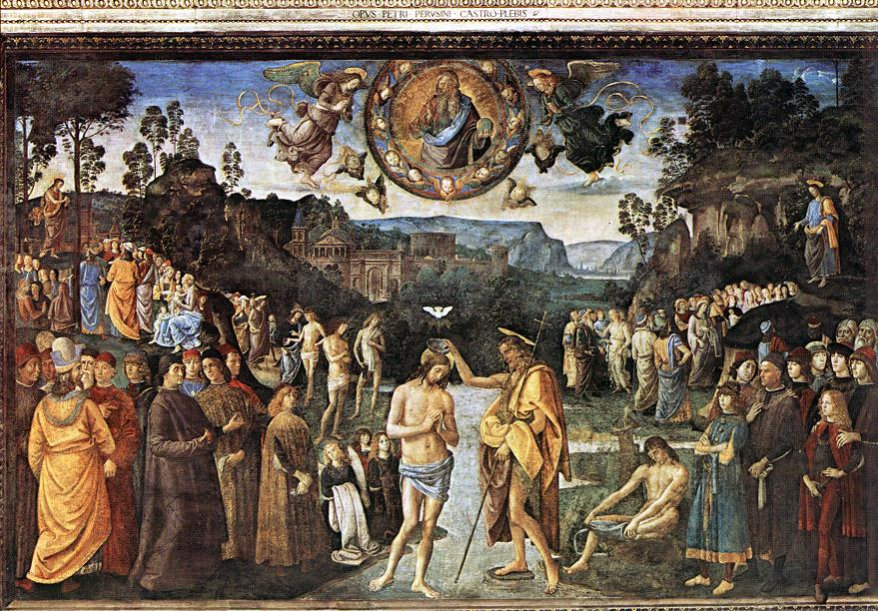 Pietro Perugino 1450 – 1523
The Baptism of Christ
fresco (335 × 540 cm) — c. 1482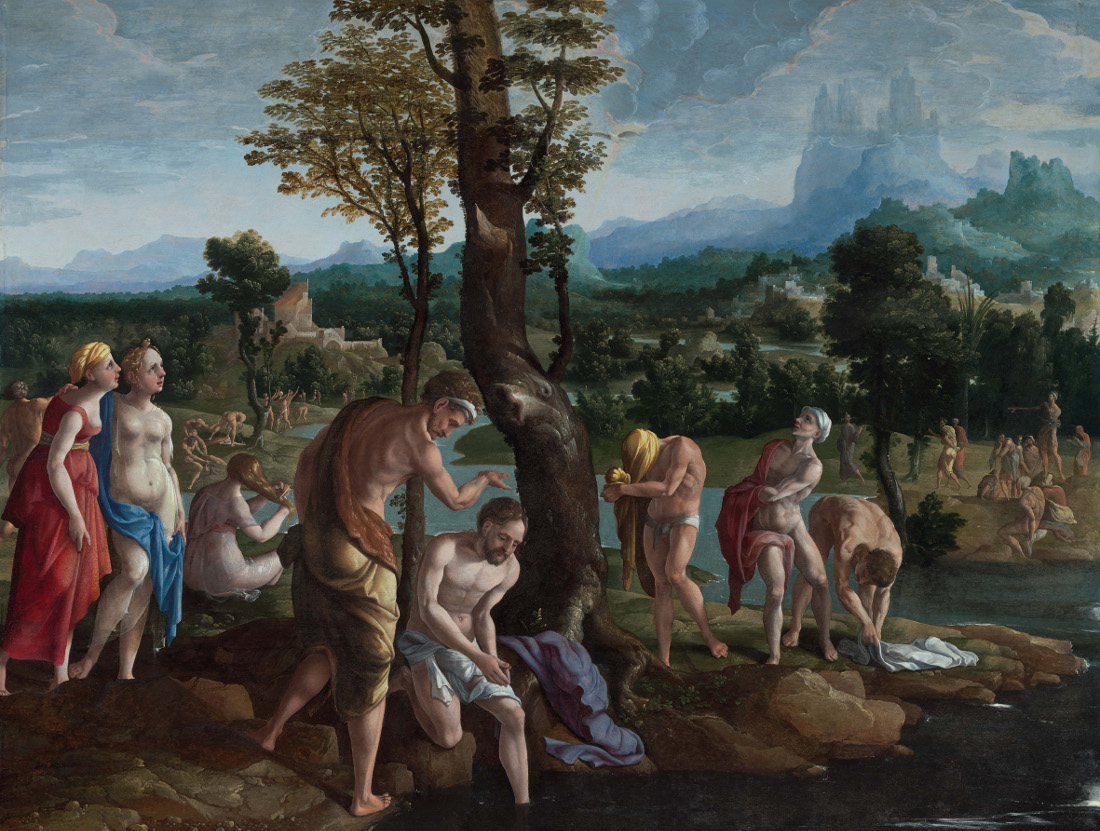 Jan van Scorel 1495 – 1562
The Baptism of Christ
oil on panel (120 × 156 cm) — c. 1527-1530
Jesus is baptised in the river Jordan by John the Baptist, who as usual is dressed in a cloth of camel's hair. To the right of the tree are a pigeon and a beam of light: the signs of the presence of the Holy Spirit who descended on Jesus. Three bystanders look up, surprised by the light.
In the background right is another scene. It shows the Baptist preaching. Jesus leaves the scene and is followed by his first two disciples.
Van Scorel had returned from Italy a few years before he made this panel. The influence of Italian masters such as Michelangelo and Raphael is clearly visible in the muscular and graceful figures.
The Baptist and the curved tree form a triangle that puts the focus on John's hand hovering over Jesus' head.
The Baptism of Christ
1500
Wood
National Gallery of Art, Washington
MASTER of the St. Bartholomew Altar
(active 1470-1510 in Cologne)
Baptism of Christ
-
Oil on oak, 59,5 x 77 cm
Kunsthistorisches Museum, Vienna
PATENIER, Joachim
(b. ca. 1480, Bouvignes, d. 1524, Antwerpen)
The Baptism of Christ
c. 1427
Gilt bronze, 79 x 79 cm
Baptistry, Siena
GHIBERTI, Lorenzo
(b. 1378, Firenze, d. 1455, Firenze)